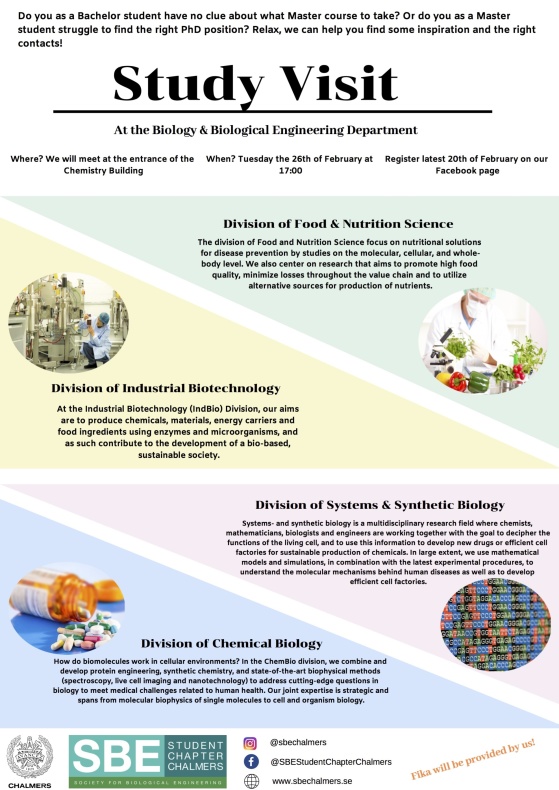 Do you as a bachelor student have no clue about what master to take? Or do you as a master student struggle to find the right PhD position? Relax, we can help you find some inspiration and the right contacts!

Register here latest 20th of February:

https://docs.google.com/forms/d/e/1FAIpQLSehHc1jGmRjkS_JFDn3C3KjhLhrax2l2mfM8Bw2Nr9SZYBXvg/viewform?usp=sf_link

Welcome to the annual Study Visit at the Department of Biology and Biological Engineering the 26th of February! You will have the chance to speak to representatives of each of the four divisions:
- Food and Nutrition Science
- Industrial Biotechnology
- Systems- and Synthetic Biology
- Chemical Biology
and also visit the labs and venues of one of them.

The study visit will take about 1h & 15 min and the preliminary schedule is that we first meet in the Chemistry Entrance at 17 or the SysBio Kitchen at 17.15 (Floor 6). Then we will receive a brief presentation of each of the four divisions between 17.30-18.00. After that you will have the opportunity to visit a chosen division in smaller groups between 18.00-18.30 and ask questions to the division representatives. Fika will be served in the SysBio Kitchen, hope to see you there!

Are you curious about the cutting edge gene editing technology CRISPR/Cas9 and what research it can be applied to? Join us for an inspiring webinar lunch the 7th of February in KA together with Raphael Ferreira, a PhD student at the Systems & Synthetic biology Department at Chalmers. Raphael's work focuses mainly on developing novel CRISPR/Cas9 gene editing tools for metabolic engineering purposes and he recently returned from a research visit at MIT, where CRISPR technologies was applied on cancer research.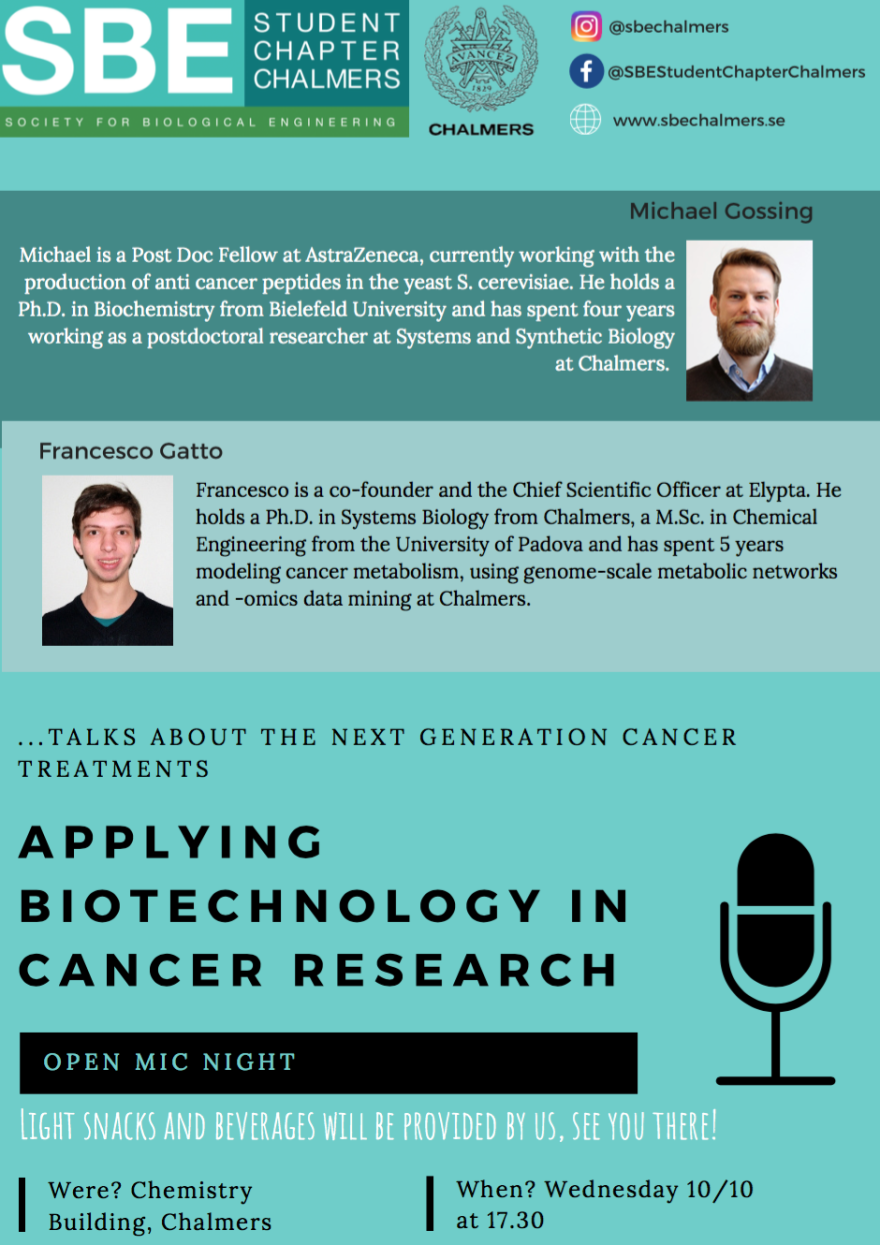 Movie Night with SBE!

Join us for a fun & inspiring movie night on thursday 27/9 at 17.30 in 10:an, tenth floor in Chemistry Building. The theme for the night will be ethics in biotechnology and we will be watching the renowned Netflix original film Okja by South Korean director Joon-ho Bong.

Snax & Sodas will be provided by us, hope to see you there!

SBE x iGEM lunch lecture
Are you interested in biological and chemical engineering? Do you want to find out how to get involved in a cool engineering project or attend an inspiring open mic night? SBE Student Chapter Chalmers and iGEM will co-host a lunch seminar on September 12th in KE lecture hall and talk about their organisation and how you as a Chalmers student can get involved.

Free sandwiches, first come first served! Hope to see you all there:)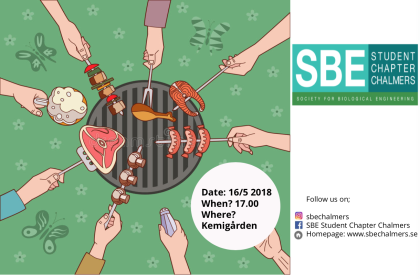 Meet & Greet BBQ with SBE

Come and hang out with the new board of SBE and learn more about what we do! If weather allows we will have a BBQ in Kemigården, if not we will order pizza and stay indoors. Everything will be provided by us, just come and have a great time:)