Welcome to sbe Student Chapter Chalmers
Welcome to the website of Society for Biological Engineering Student Chapter Chalmers. Here you can find information about the society and our partners, our coming and previous events how to become a member (and why!) and of course how you easily can contact us. As a member of this chapter you will be a part of a world wide network, which grants the ability to expand your knowledge in biotechnology, chemistry and interconnected studies, with the opportunity to meet people sharing your interest for biological and chemical engineering. Our student chapter is open for students as well as post docs, professors and anyone with interest.

So what are you waiting for? Join us by clicking here, and let's explore!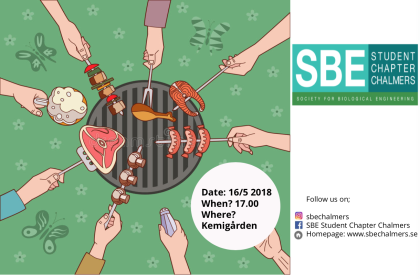 Meet & Greet BBQ with SBE

Come and hang out with the new board of SBE and learn more about what we do! If weather allows we will have a BBQ in Kemigården, if not we will order pizza and stay indoors. Everything will be provided by us, just come and have a great time:)